Every person in the world is health conscious and wants to look fit and smart. The body persona and built adds up to the personality content and for that you need maintain yourself physically. The Android market with millions of apps has developed some apps specifically for your health care and improvement.
For your health maintenance, you need to exercise daily, follow proper diet charts and on the top you need to have proper and nutritious food. The below 11 Apps will help you in each respect thus giving you a perfect healthy body. The list includes most popular apps for daily routine exercises, health monitoring and recipe searching and making.
11 Useful Health Apps for Android
Workout Apps
Daily Ab Workout is a great 5 to 10 minute daily ab routine app for men and women that steps you through ten of the best ab-sculpting exercises. These proven exercises, demonstrated by a certified personal trainer, target all major abdominal muscles.
Daily Ab Workout has a simple interface and includes video and timer for the guidance along with the randomize feature for different daily workouts.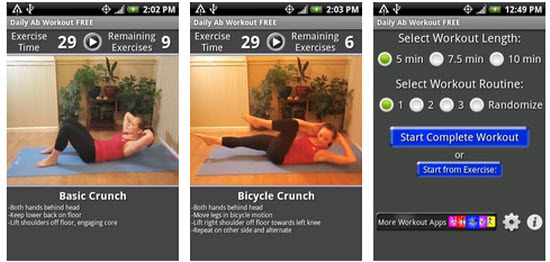 Developed by Skimble Inc., Workout Trainer is a FREE health app illustrating you workouts led by expert trainers. Workout Trainer is ideal for people who want to get in shape without using any exercise equipment. You just need to put on your headphones and follow along with audio instructions and progress cues and see instructional photos and videos that explain each move in detail
Workout Trainer application is synchronized with the Skimble.com website, so you can track your progress online too.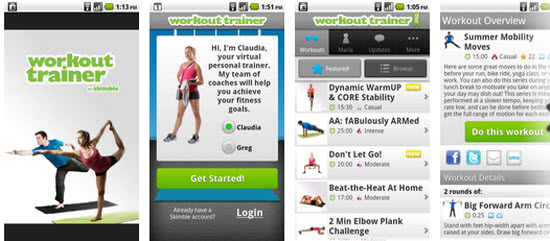 Get fit with VirtuaGym Fitness for Android.
VirtuaGym Fitness illustrates workouts for home & gym with proper exercise directions and vivid 3D demonstrations. It also has virtual personal trainer to keep you fit. This app also supports Android 3.x and has features like timer, audio coaching and videos.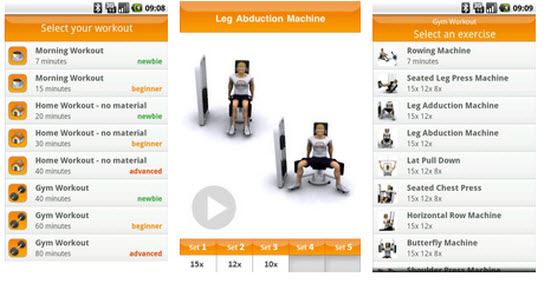 Get your dynamic Yoga Classes on your Android phone with this "Daily Yoga for Abs" app.
Daily Yoga for Toning Abs provides professional Abs building routine based on 16 yoga asanas for both men and women which aim to offer a physical boost-up. With animation demonstration and an average 10-minute training duration, this app like all yoga training helps you to calm down and get rid of physical and mental stress.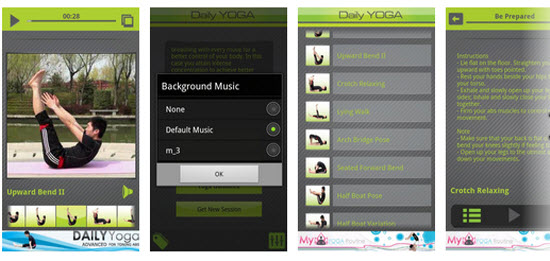 Health Checkup Apps
Instant heart rate is the best Health & Fitness app on Mobile that turns your phone into a heart rate monitor. Instant Heart Rate is the most accurate Heart Rate Monitor app for any smartphone and it does not need any external hardware.
Just place the tip of your index finger on phone's camera and in a couple of seconds your Heart Rate will be shown along with a real-time chart of your every heart beat. The app's accuracy is being constantly tested by fitness coaches, nurses, doctors, EMTs and 5 million users like you to make it more perfect.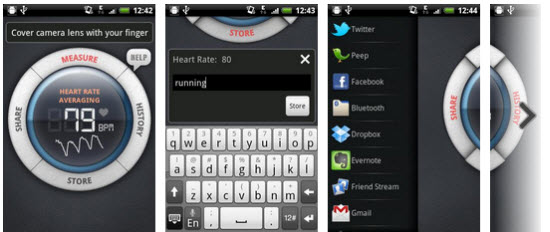 Libra Weight Manager tracks your weight using a trend line. You can easily enter your data to calculate body mass index and other statistics. It estimates your Daily Kcal, Diet plan and other details. You can also Share chart via email, mms, Facebook, Twitter, etc. and your data get synchronized with their online database for assistance.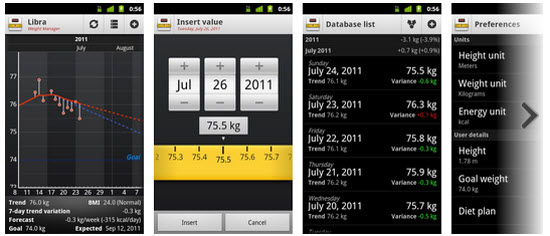 iTriage app is built by doctors to help you make better healthcare decisions. iTriage helps you answer the questions: "What medical condition could I have?" and "Where should I go for treatment?" It also lets you save, easily access, and share the healthcare information most important to you. It provides you with features to search symptoms, learn about potential causes, and then directs you to the most appropriate treatment facility or doctor by finding closest facilities and doctors from your location.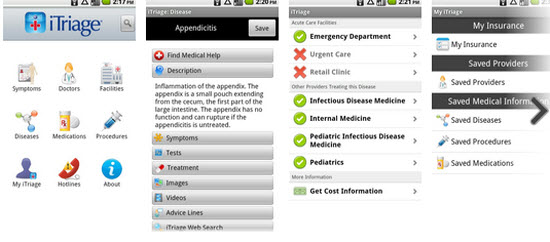 RunKeeper tracks your workouts, measures your heart rate and improves your fitness. It uses GPS system to track your fitness activities, including distance, time, pace, calories, heart rate, and path traveled on a map. It also provides audio cues, customized interval workouts, manual entry for treadmill and other cardio equipment and integrated RunKeeper Fitness Classes thus, making it a complete package for improving your fitness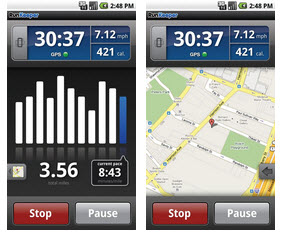 Lose It! is the very useful and streamlined weight loss application for the Android platform.
With Lose It you can set goals and establish a daily calorie budget that enables you to meet them. You can also record your food and exercise and measure the changes. This will help you in losing your weight in proportion. The average active Lose It! user has lost more than 12lbs and more than 85% of active users have lost weight.
Lose It features:
Simple, attractive, streamlined interface
Comprehensive database of foods and activities
Quick addition of new foods or exercises to the database
Setup recipes for more complicated foods
Quickly add to your log with previous meals, my foods, and other shortcuts
Track nutrients such as protein, fat, carbohydrates, and more
Works with or without a network connection.
If you really want to lose your weight in the most systemic manner then Lose It will definitely help you.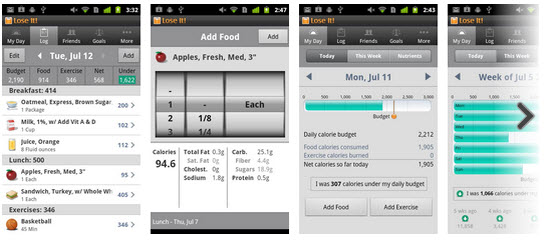 Health Recipe
Now no needs to join any cooking classes or follow the recipe manuals for healthy cooking, Recipe Search provides a quick and simple way to find recipes with ingredients that you have or want. With over 70k recipes including main dishes, appetizers, drinks, side dishes, desserts, ethnic recipes, soups, stews and diet recipes, Recipe Search gives you complete recipes directions, ingredients and reviews. You can also create your own recipes and share with friends and community. Thus, you can enjoy more healthy food menu with this app.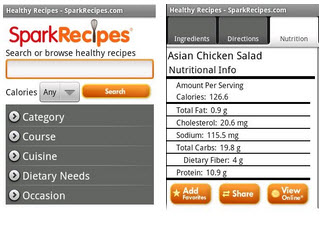 SparkRecipe app is developed by SparkPeople Inc. which browses and searches thousands of healthy recipes to serve you best food. The app contains their resident chef's original dishes and menu makeovers along with recipe calculator that gives you the calories, fat, and nutrition information.
Healthy Recipes application lets you browse and search thousands of recipes, plus save your favorites, thus proving perfect for anyone on a diet!