Yahoo Messenger is one of the most popular instant messengers which come with lot of great features. You can make Video Calling and get friends update from Yahoo! Twitter, Flickr and more.
Yahoo Messenger 11 Final Released Download Offline Installer
With Yahoo messenger 10 you not just do instant messaging you cal alos make voice call, make full screen video calling. Yahoo messenger offers you to get update from other social networking and media site like Flickr, Twitter, Facebook etc. You can change your preferred language on Yahoo Messenger.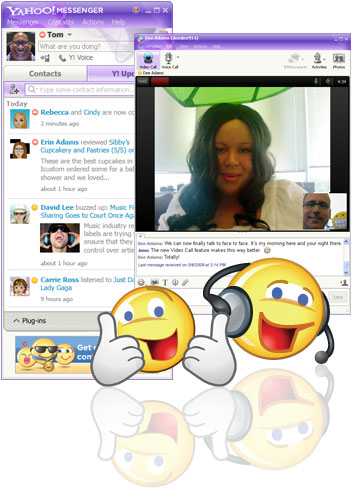 Yahoo messenger 10 Features

Easily find or invite friends from other services to come chat with you
You can chat with high quality full-screen video.
Make free PC-to-PC calls and PC-to-phone calls for as low as 1¢ a minute (plus free voicemail!)
Send text messages (SMS) to friends' mobile phones for free.
Instant message with one friend, or conference in a bunch
Show your style with emoticons, Avatars, audibles and IMVironments
Use the built-in media player to watch web videos and view photos with friends
Yahoo messenger is available for Windows XP, Vista and Windows 7. Not just that Yahoo messenger is also available for Mac, Mobile and iPhone. When you download Yahoo messenger 10 for Windows you not get offline installer it is online installer. You need to be connected online every time you need to install Yahoo messenger. Here you can find Yahoo messenger 10.0.0.1270 (latest Build) offline installer.

Yahoo! Messenger 10.0.0.1270 Offline Installer (Windows)
Yahoo! Messenger for iPhone (App)

Yahoo Messenger 11 Final Released Download Offline Installer