If you are mobile apps lover and search for amazing apps then there is a great app for you Sketch Me. Sketch Me can convert your photo into sketches.
Sketch Me is easy to use app which will convert your images and photo into sketches just by applying special image effect. You can convert any existing image or shoot an image from your mobile camera and convert that image into sketch.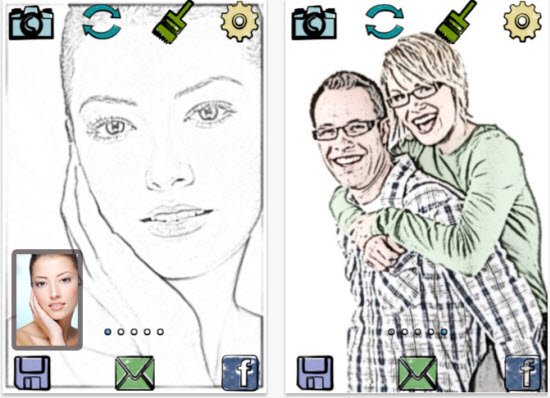 How to use:
1. Pick a picture or image you already have or you just capture;
2. One button to realize the sketch effects;
Features
Supports Facebook and e-mail so you can easily share your sketches with your friends, as well as save them to your iPhone.
Features an easy-to-use interface. You can use your finger to move an image around on the screen to find its best position. You can also zoom in and out through the pinch gesture.
Split screen mode, where only one half of the photo is shown in sketch.
Adjustable sketch parameters mean that you can have extra control over how the sketch effect turns out.
This application is available for Android based device and for iOS based devices (iPhone, iPod touch, and iPad). This app is free for Android but cost $0.99 for iOS devices. This app require Android 1.5 up or iOS 3.0 or later.
Download Sketch Me for Android
Download Sketch Me for iOS (iPhone, iPod touch, and iPad)