The biggest worry that always remains a matter of big concern for the mobile phone users is the battery backup of their phone. More the powerful is your mobile; quickly it consumes the battery power.
Android mobiles are known for high battery consumption and mostly last for only one day after full charging. If you want to save your phone's battery then there are some apps available in Android market which will alleviate this problem. The most popular FREE apps regarding battery saving are listed below.
1. JuiceDefender
JuiceDefender is a powerful battery saving app specifically designed to extend the battery life of your Android device. Packed with smart functions, it automatically and transparently manages the most battery draining components, like 3G/4G connectivity and Wi-Fi. It also allows complete customization through a clean and intuitive user interface and once configured it runs by itself, improving battery life in a fully automated manner. Moreover, it integrates seamlessly with power control widgets and shortcuts, without interfering with manual settings.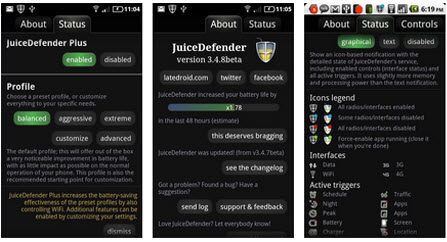 So if you forget to close your running applications or network connectivity then JuiceDefender will do it automatically.
Benefits: With JuiceDefender Battery Saver you can easily manage Mobile Data, Wi-Fi and CPU speed, you can keep power consumption under control (e.g. disabling connectivity when the battery runs low), schedule regular Synchronization events, enable or disable connectivity for specific apps, auto-toggle Wi-Fi depending on your location, and much more.
Some features are not available for the FREE version of JuiceDefender. You need to purchase the license to enjoy all features:
Main features include:
5 Preset Profiles (from default mode to full customization) with easy and Intuitive User Interface.
Home screen Battery Widgets
Mobile Data toggle automation
2G/3G toggle automation
Wi-Fi toggle automation + Auto-Disabling option
Location-aware Wi-Fi Control (e.g. enabling Wi-Fi only at home/work, disable it otherwise)
Battery Consumption Optimization (e.g. when screen off, battery under threshold, etc.)
Comprehensive Connectivity Scheduling (regular schedule, night time/peak time, week days/weekends)
CPU scaling when phone is idle
Smart Brightness control
2. Battery Dr saver + task killer
Do you want to make your battery stronger? Dr.Battery can help you to save power.
This app improves your battery life up to 30%-50% and makes your phone faster and smoother. With battery saver you can also kill tasks quickly and reset your phone easily. It shows battery health, temperature, talktime etc. and keeps you informing about the killing of unused tasks.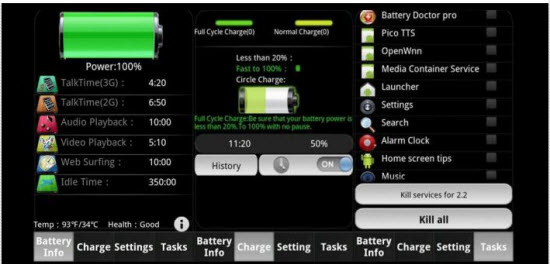 Battery Doctor is the best Battery Improver/Battery Booster/battery saver tool. As your Battery Helper, it helps you to improve battery life. It also displays the remaining time (battery's running time) for: TalkTime (2G/3G/4G), audio Time, video Time, Web Surfing Time and Idle Time.
With the quick setting, you can extend Battery Life (boost Battery Life) to improve your Battery Performance.
It also acts as a Task Killer/advanced task manager:
The task killer like ATK allows you to kill processes on your Android quickly. It includes features like Memory booster/ram booster, Notification in the status bar, one-click task killer widget, etc.
Thus it serves as a full package for saving your battery and allowing you to maximize your phone usage.